new functions for an optimal wellness
Additional roller to enhance the effects of Slim Cera Plus.
The Slim Cera Plus has 6 rollers as oppose to 5 in comparison to Slim Cera Classic, easily covering wider areas. The positioning of first roller is moved slightly upwards so that a single spot wouldn't be missed.
There are beauty ceramic components on the third and forth rollers which triggers the generation of far infrared radiation and negative ions.
Far Infrared is the "warm" energy in humans, animals and plants, also emitted from sunlight. The intensity of Far Infrared in human body constantly fluctuates and with higher intensity, we tend to be stronger and healthier.
Benefits of Far Infrared Heat:

Stimulates an increased blood flow, regeneration, circulation and oxygenation.
Promotes the elimination of fats, chemicals and toxins from blood.
Stimulates enzyme activity.
Aids the creation of Nitric Oxide which prevents heart disease and stroke.
Boosts metabolism and enables serious detoxification.
Promotes the rebuilding of injured tissue.
Strengthens and supports immune system.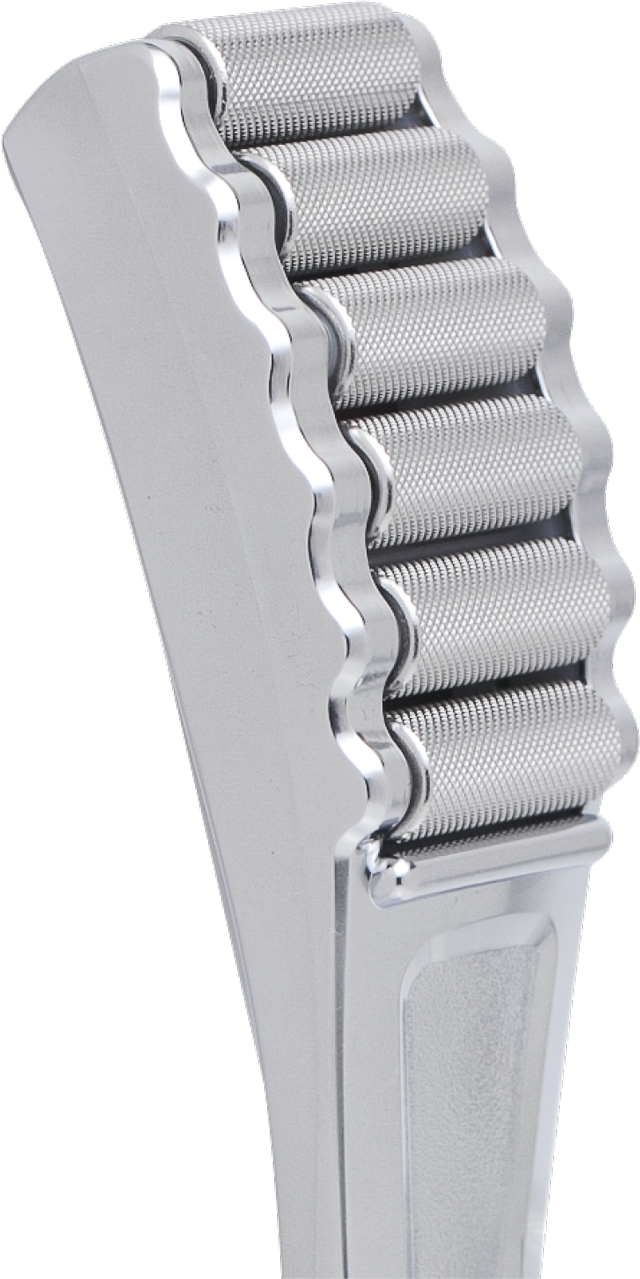 Solar Panels with microcurrent
To maximize Slim Cera Plus' performance, our craftsmen used solar panels which work perfectly under indoor lighting. Slim Cera Plus is capable of generating microcurrent (concentrated at handle tip, the first and forth roller) which stimulates our skin cells.
Microcurrent in aesthetics is often described as "non surgical face lifting" due to the dramatic lifting effect that it has on facial muscles. During treatment, a series of tiny electrical impulses that mirror the body's natural bioelectrical field is delivered to stimulate our skin cells.
Cosmetic benefits of microcurrent stimulation:-

Increases blood and lymph circulation
Enhances the penetration of the active ingredients in skincare products
Increases the production of collagen and elastin
Increases protein synthesis, gluconeogenesis and cell membrane transport
Increases mitochondrial activity
What is Microcurrent?
Discovered by two co-winners of the Nobel Prize in Medicine 1991, the micro current is used since 2006 in cosmetic medicine of the face. The reactive current micro-cell regeneration mechanisms of the skin and helps to fight against aging of the face.

Germanium plates
Slim Cera Plus has an easy-grip design and it is packed with Germanium plates which help with anti-aging and improved immunity. Its handle tip is designed to reach pressure points easily and with the help of the microcurrent, the handle tip can be used to stimulate various health and beauty pressure points on our bodies.
Magnetic pads used for alleviating shoulder and back pain as well as improving blood circulation have approximately 800 gauss of magnetic induction. In Slim Cera Plus, the movements of rollers are heavily influenced by two 900 gauss magnets which are going to do wonders to your blood circulation.
Action points
・Anti-tasks and Anti-Dull
Promote the excretion of melanin and waste causing the appearance of stain and tarnish the skin A BRIGHT FACE
・︎Anti-Wrinkle
Promote the excretion of oxygen and waste causing wrinkles A rejuvenated SKIN
・︎Lifting
Improve metabolism of the skin by stimulating the lack of hydration cause of sagging skin,. ELASTICITY AND RELEASE OF THE SKIN
HOW TO USE SLIM CERA
Roll towards even more beautiful skin in just 3 minutes...
Roll three minutes each time, three times daily.
Use even in the shower or bath.
Effective after washing your face as well as before applying facial creams
A gentle rolling motion is all that is required.
A gentle and pleasant roll is all that's needed.
5 UNDULATING ROLLERS
The rollers of the head on each end roll have a slightly more powerful effect due to the magnetic ceramic material used. This applies the proper amount of pressure to effectively stimulate 'beauty points' and facial muscles.
EFFECTS
Facial definition is dull and the skin is a pale red
Facial definition is clear and the skin has more life.
Firms and tightens your skin for a rejuvenated look and feel!
Skin moisture and elasticity test results using the cosmetic sensor Triplesense Equipment used: Skin Counseling System Triplesense TR-3, made by Moritex
An increase in moisture & elasticity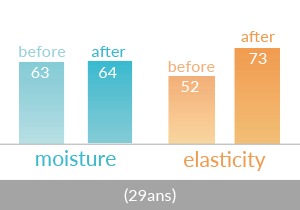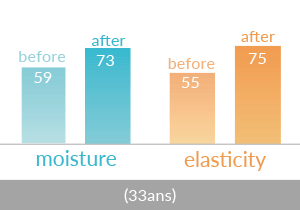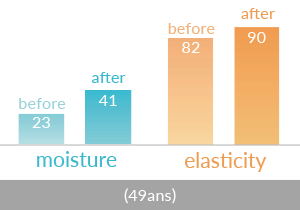 Results will vary. The condition of your skin after using the Slim Cera will last for a couple of hours. Continuous use of the Slim Cera will rejuvenate and stimulate your face leading to more beautiful skin.
FAQ
Can I use Slim Cera for a long time every day ?
For the first time, roll Slim Cera three minutes each time and three times per day on the entire face. After your skin seems accustomed to Slim Cera, you may gradually increase the length of time and number of times you use it.
Is my face the only place where I can use it?
No, you can use Slim Cera on other parts of your body including your neck, your neckline, the back of the your hands, the inner side of your upper arm, around your stomach, behind your knees and on your calves. You can use it on your whole body. Don't press too strongly, nor use it too long on the sensitive parts. You can also use Slim Cera while applying lotion or cosmetics and with soap in the bath.
Can I use Slim Cera while wearing make-up?
Yes. Since the molecules of make-up foundation are very large, there is no risk that they will penetrate into the skin.
What is more efficient? Using Slim Cera before or after applying lotion or cosmetics?
Both are very efficient. However, as lotions or cosmetics sometimes contain vitamin C which has a high rate of acidity, the surface of Slim Cera might be damaged. We suggest that you wash it with cold or tepid water after such usage.
Can I use it in the bath?
Yes, Slim Cera is made from water resistant material. You can use it with facial or body soap. After use, do not store Slim Cera in a humid place because the surface of Slim Cera may be damaged and the plate of germanium inside the handle could come loose. Wipe Slim Cera carefully with a towel and store it in a dry place.
How long is the ceramics of the roller efficient?
The ceramics do not alter; the roller will be efficient for a long time.
I have a sensitive skin can I use Slim Cera in complete safety?
The roller is made from a material with little impact on skin. We counsel you however to test it on a part of your skin not in evidence such as the inner side of your upper arm. Ask then for advice to a physician.
Should Slim Cera be rolled in a certain direction?
No. It is up to you to determine the direction that suits you the best.
Care Instructions
This product is made of stainless steel so it will not rust. Wash with warm water when needed. Dry gently with a towel. Lotions, creams, oils can be washed off with body soap and light brushing with a toothbrush.